'In Affiliate Marketing, Transparency is key for long lasting partner relationships'

Guess Access or else, Account Synchronization is a new feature we developed for you in 2019, allowing you to syncronize results and reports between you and your selected Partners. You can select which partners/ affiliates you wish to invite to the platform, and then with a simple and quick set up, you give them access to view the exact same results, or reports, you view in the platform internally. The feature is fully customizable, which means that you can share reports on Partner, Product, Affiliate or a combined level.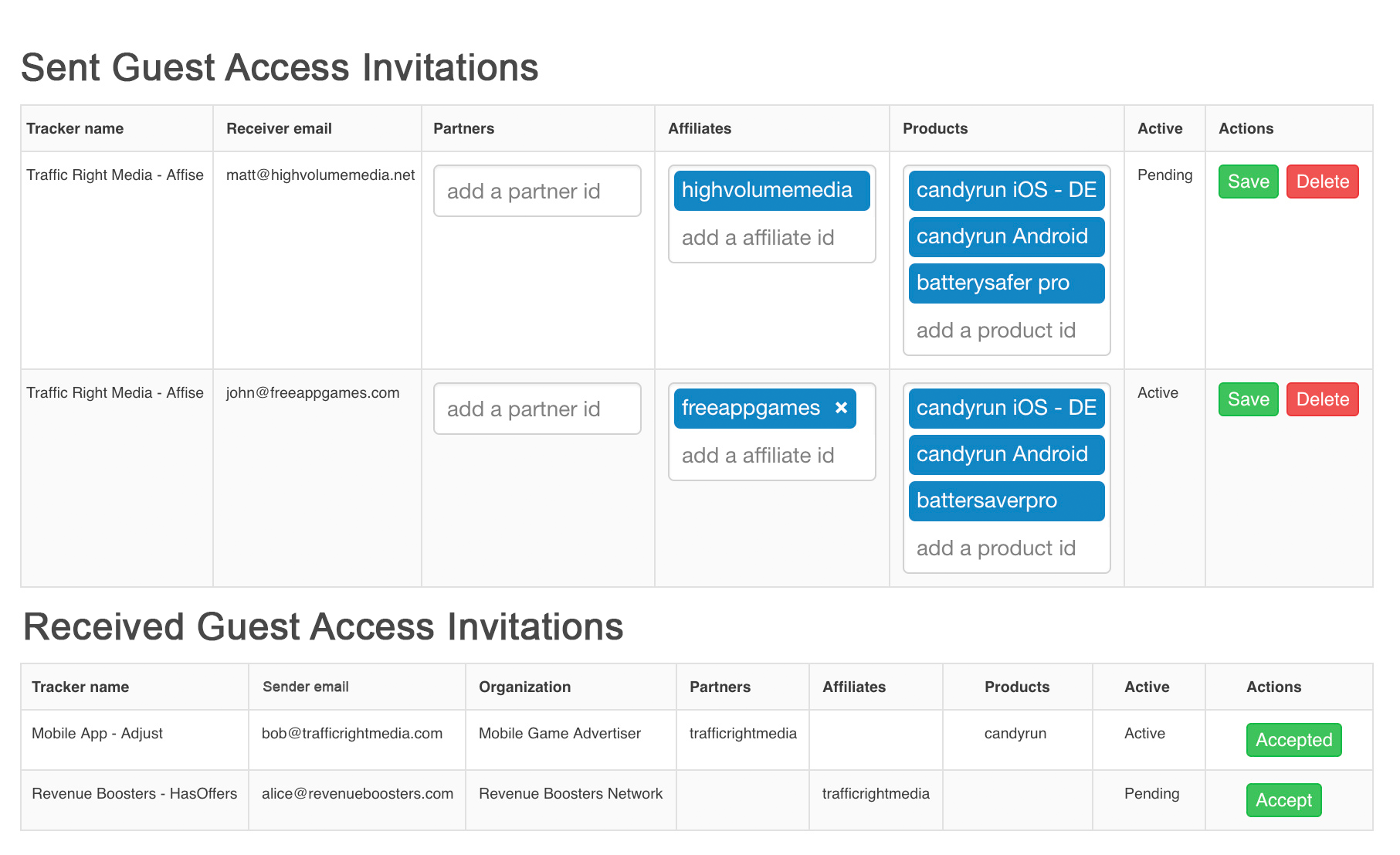 How does Guest access help me in my work with Affiliates ?

In Affiliate Marketing there is one thing that all companies have in common, and that is fraud in their campaigns, which comes with trust issues and a lot of manual work. One may not be able to avoid fraud but what you can do is a) to detect it and b) delegate it in the most efficient possible way. And number one rule for client relationship efficiency, is transparency. The great thing about Guest Access is that, not only it re-invents the way we look at transparency using a Fraud Detection tool, but it genuinely saves you a lot of manual work and time, both for you and your Partners. No more time consuming excel file sharing, overloaded data reports with countless irrelevant entries, and above all no more doubts between you and your Partners. Did someone change the Excel data entries? No more of that! Adding to that, on a bigger picture, you get to view synced results in real time on both sides, which equals to quicker processes between Advertisers and Partners, which equals to faster pay outs! Sounds like a win- win situation, right? With Guest Access you literally get what you see.
''Granularity is the first weapon to fight fraud, Automation is the secret for its elimination''
Why it is relevant to Networks / Affiliates ?

Transparency and task efficiency, are equally beneficial for both Networks and Affiliates. Let's take a look to why that is: You trust to get paid!Common ground with Advertiser, of what is fraud and what is notImmediate / Constant Feedback on quality (no more waiting for the account manager to send the Excel report) Improved reputation in the industry. Advertisers talk between them! And they talk both for good and bad partnership experiences.

What if I am not a Fraudshield Client ?

Do not worry. Everyone can use Guess Access, even if you are not using Fraudshield as a Fraud detection tool. At 24Metrics, we strive to make Affiliate Marketing a safer and more efficient for everyone. Because of this we introduced a cheaper plan starting at 199 USD monthly fee including real time unlimited conversion syncing between Fraudshield clients.

If you have any questions about this please take a look at our help section or send an email to support@24metrics.com