Running Lead or Mobile CPI campaigns always require regular ROI checks to ensure that users actually convert into paying customers. For this marketing experts typically use Goals or also called Post Conversion Events to measure user activity or purchases. The approach works very well as its accurate but it has a significant downside.
When a new campaign starts marketers have to wait typically 2 weeks until they can see first results on KPI / metrics to determine the quality of the source. For statistical significance its also needed to collect enough data to not take a premature decision. Unfortunately this is a time consuming and costly undertaking following this simple calculation:
Payout per Lead = 2 USD
Leads per day – 150 Leads
Days to evaluate Traffic Quality = 14 days
Sum of Campaign Cost = 4500 USD
More of than not the quality does not meet the expectation and the campaign has to be stopped whether for Fraud reason or simple low ROI. Now we have been how to shorten time time frame and if it would be possible to get a better indication on the first day of the campaign instead having to wait 14 days.
Introducing A.I quality predictions
From our internal analytics of sources for fraud reasons we have discovered that quality of users also depends on a variety of factors such as Day of the week, if a VPN is used, how long it took the user to complete a survey or install an APP, the Device, OS Version and many other factors. Overlooking these factors is difficult and the rules for this are often too complex to put it into a fixed set of rules.
Here is how it works
Get a quality screening of your traffic on the first day of the campaign!
Provide easy to understand A.I Quality Prediction Scoring
Works for Mobile CPI Traffic (ML Models for Lead / eCommerce will follow)
Custom Model Trainings are possible (upon requests)
A.I Quality Score will be shown inside the Fraud Report to give the best overview of your traffic

iOS14.5 Skadnetwork Ready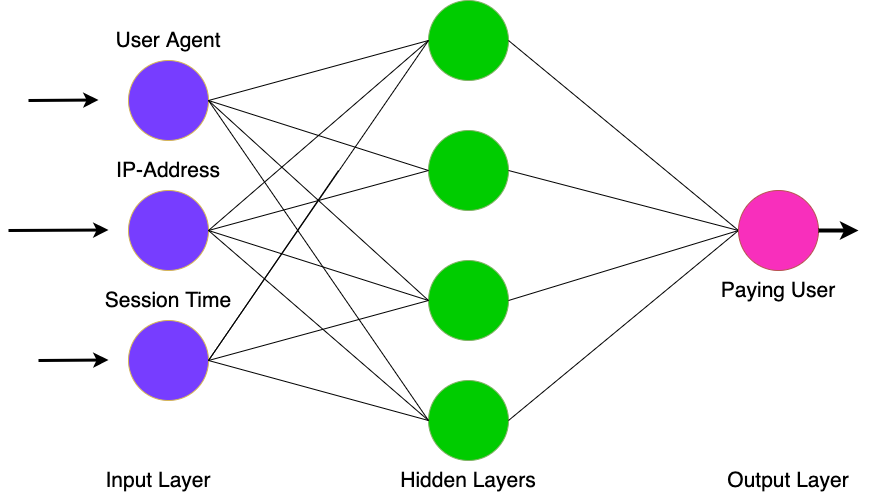 Therefore we started training an A.I model based on 7.5 mio conversions and comparing the outcome of each single conversion to turn into a paying customers. The results were extremely interesting as we have identified differences in languages and even ISP. As an example users from the Google Fiber Network in the U.S (a Gigabit Internet ISP for tech savvy users) showed a 70% higher probability to turn into paying users than AT&T users.
Different Models for different use cases can be selected. The model considers input values, including User Agent, Country, City, ISP, time zone, connection type, Click to Conversion time and more.
Every conversion receives its own A.I predictions score in our report. The results are predictions and dot not represent a perfect accuracy. Prediction scoring is meant as another tool for marketers to decide early in the campaign whether they want to continue running the campaign at high volume or if they better reduce volume or pause the campaign to see definite results after 2 weeks. In our tests we could see that Adwords / Apple and Youtube Video campaigns scored significantly higher than other sources.
We recommend to test this feature out – see how it works for you and we would love to hear your feedback!