Performance marketing is arguably driven by 3 key components: innovation, data and transparency. Specifically, those vital values have been combined at their best capacity, since the rise of programmatic advertising. Specifically the main drive force pushing for programmatic marketing to rise, are service providers around the anti fraud sphere, which is one of the market's main issues, affecting directly partnerships and ROI.

As fraudsters become more innovative and complex, so are all service providers keep pushing for more product features and releases, that are designed to fight those new types of fraud. At 24Metrics we do that, but we give transparency an extra push. We understand that numbers, data and figures are vital, but what has driven business throughout human history to long lasting success, is the quality of the relationship between partners. In affiliate marketing especially, partnerships are swift and volatile as the wind, and the only way to stabilize those relationships, is through transparency. No software can replace the human value of honesty in business, but it can help boost it with that extra X factor. For us that X factor is our Guest Access Account and its recent more updated form, with the help of the Extended Labels feature. In Fraudshield clients have the ability to sync their results and both sides can view and share the same data on conversion or fraud reports, and it reduces to the minimum manual work with excel files, sharing , editing etc. You would think it cannot get more transparent than that for a service provider in the anti fraud sphere right?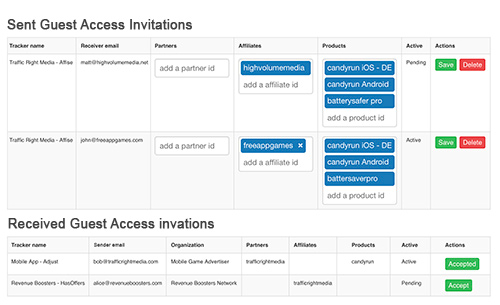 Well we think it can, and so we added that X factor that is called voluntary disclosure in our services for you. By definition the above is the provision of information by a company's management beyond requirements where the information is relevant to the decision-making of users working with the disclosing company. It is no brainer that coming 'clean' and forward with new useful information, for your clients, without them pushing or asking for it, not only makes their life easier, but also the trust/ transparency in the relationship moves truly to a next level.

Now in your Fraudshield conversion reports, we tell you, where syncing with other Fraudshield Accounts is possible. The icon "Sync" Icon next to the Affiliate, Partner or Product will display in this case.

We want you to know who works with us, so that you can trust better without further questions, the companies that we do. You have something vital in common. Your anti fraud service provider. We help you work between partners we have in common, in ways that no ambiguity or grey areas can fit. You do not have to ask or chase or assume. We tell you upfront. Happy syncing from us 😀
Your 24Metrics Team